ColActive® Plus Ag Collagen Dressings provide natural wound healing
Are you familiar with the latest products in advanced wound treatment?
ColActive® Plus Ag Collagen Matrix Dressing with Silver is an advanced wound care dressing made of collagen, sodium alginate, carboxymethylcellulose (CMC), ethylenediaminetetraacetic acid (EDTA) and silver chloride. These dressings promote excellent treatment of various wounds ranging from ulcers, burns, and even wounds caused by Hidradenitis Suppurativa (HS).
Key Features
Natural Wound Healing

The EDTA in the dressing removes zinc to
inhibit the activity of matrix metalloproteinases (MMP). MMPs are responsible for the degrading of certain proteins in the body. Prevention of MMPS creates a suitable environment for wound healing.

Optimized absorption and wound moisture

The Collagen Alginate provided allows the dressings to absorb up to 20 time its weight in drainage, while keeping wounds moist for optimal healing at the same time.

Antimicrobial Silver

The silver chloride found in the dressings provide advanced antimicrobial activity preventing the infection of healing wounds.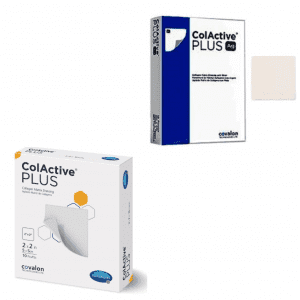 Are you interested in Collagen Dressings?
Would you like to improve your Physical and Mental Health?
Find out if you qualify in little-to-no-time!
Do's and Don'ts of Collagen Wound Care
DO:

Use for partial and full thickness wounds (ulcers, surgical wounds, abrasions)
Use on no greater than first or second-degree burns

DON'T:

Use if you have allergies or sensitivities to animal derived collagen or silver-based products
Use on third-degree burns
Our Specialists are here to help you!
Just fill out the form below with your information
We'll contact you to see if you qualify